Our trip to Luxembourg at the end of June was the first time we'd gone all carry-on. Mr Fletche and I had perfected the art of taking just one larger suitcase between us for the last couple of European short trips but in order to get the best value out of our breaks we're well aware that travelling carry-on only is the best way forward.
Let's start with Mr Fletche. Clotheswise, he's fine packing a pair of jeans, a couple of pairs of boxer shorts and a shirt or two in a small suitcase. However it's the camera gear that's the issue. To haul all of his equipment around takes a fancy-schmancy backpack with space for different lenses and easy access. So for us to travel carry-on only it's really important that we fly with an airline that will allow us to take a second "personal item" on-board along with our designated carry-on luggage. Mr Fletche may have to sacrifice a couple of his many lenses but he can fit all his camera equipment and travel necessities into this cross-body sling camera bag and still pack all his clothes and toiletries into a cabin suitcase.


And now to me. A serial over-packer, I have lugged a large suitcase with not one but two unworn pairs of high heels around Italy. I have a denim jacket that has visited so many countries around the world that it should have its own passport. I used to have a pink flowery suitcase which was so big it doubled up as small hotel should we need emergency accommodation. So it was a challenge quashing my three different outfits for every day habit (day, night and a spare).
The approach? Take out of my wardrobe all the clothes I'd take if I was packing "the old way". Cull them by half. Nine tops for three days is unnecessary, so I whittle it down to five. Two short sleeved tops, two long-sleeved tops and one "dressy" top. At least one of each of the short- and long-sleeved tops can also be dressed up for the evening if necessary. I also chuck in one dress, which can be worn in the day with pumps, or at night, with tights and ballet shoes or boots. Three pairs of trousers. Each goes with at least two tops, and with at least two items of footwear (that's two pairs, not a left and a right…). That gives me 6 different outfit combos (plus the dress makes 7). One pair of PJs, which are suitable enough should there be a fire alarm in the middle of the night and I have to make small talk with our neighbours whilst wearing loungewear. Enough undies for two pairs a day, all in black or white so one bra in each colour is all that's required. Undies are stuffed in the three pairs of shoes I've managed to wedge into the bottom of the suitcase between the handles. Bulky stuff like coats and jumpers are always tricky so I plan to layer up with my travel outfit – vest top, shirt or cardigan and a coat on top – even if I end up carrying said coat.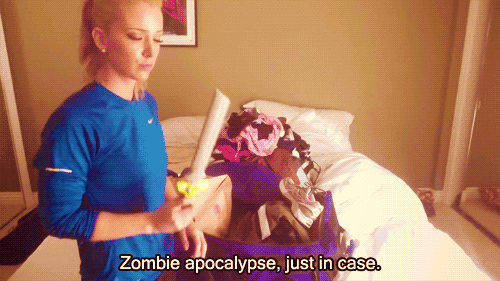 Packing cubes are great, because you can always squash more things into them. I'm not particularly in either the "rolling" or "folding" camp but I tend to fold all my clothes over in one pile with the more creasable items on the outside of the fold, and then squash all the smaller items around. In go hair straighteners (which you can bet I won't use but always feel the need to have them with me "just in case"), my beanbag Eeyore who has been to as many countries as I have, and a whole bunch of chargers and adapters for anything that may need charging or adapting.
Now for the toiletries. Carry on only requires careful consideration. Liquids and lotions have to be 100ml or less, and in one see-through bag which is then hauled out at security for the world to see. So leave the lubricant and haemorrhoid cream at home. Will a deodorant spray explode if I take it on a plane? I take a roll-on just in case, yet don't give a second thought to the pressurised containers of hairspray and dry shampoo (miniature size of course). Most hotels have shampoo/conditioner/body wash so if you can do without your favourites for a couple of days then don't bother taking them with you. Unless you're off to a really remote part of the planet, you'll be able to pick up most things whilst you're away if you really need them, so don't bother with "just in case" items, just the essentials that you can't do without. I'm never sure if lipsticks and mascaras etc count as liquids so I tend to pop them in the clear bag for security check to be on the safe side. These go in my second "personal item" rather than my cabin suitcase.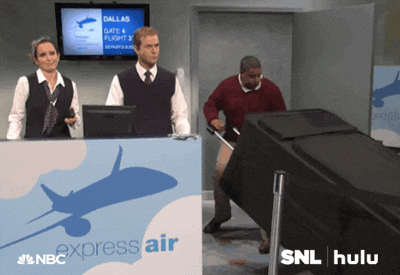 Also in my handbag goes anything I might need on the flight or at the destination…no-one wants to go rooting around in their suitcase on an airport floor. So money (in home and destination currency), phone, kindle, passports, accommodation info, headphones, sweeties for the plane etc. are all in my smaller bag which fits nicely under the seat.
Et voila. Three nights in a carry-on can certainly be done. We won't travel this way all the time – we've already pre-booked one checked suitcase for our November trip to Vienna in anticipation of heavy warm clothing – but we know that it's certainly possible for us to do, even with masses of camera stuff.  And if all else fails, follow Mr Bean's example:

Do you have any packing tips to share? Are you a "folder" or a "roller"? And what items can you not leave behind? I'd love to hear from you in the comments below!
DISCLAIMER: This blog contains affiliate links; this means that if you purchase any items through clicking through these links, A Brummie Home and Abroad will earn a small commission. Please note that this commission has no effect on the price you pay for the item if you decide to make a purchase.