Back at the start of March, Mr Fletche and I thought it might be a good idea to tackle Mount Snowdon, Wales' highest peak. Ok, it was mainly my harebrained scheme – "I want to climb a mountain before I'm 40!" – and Mr Fletche went along with it. The mountain had other ideas though, and collaborated with the bad weather gods to send us hail, ice and snow. We made it to the Halfway House (actually over halfway in distance, but probably less than halfway in walking duration) before officially being "snowed off Snow(e)don"
So with just one calendar month to go before the big birthday, and a free weekend, we decide to return to North Wales for a second bite of the mountain-climbing cherry. We book into our favourite apartment in our favourite little village of Beddgelert, and it's just like coming home. On night one it's a long drive from Brum so it's a microwave curry and a couple of drinks in one of our many locals, the Tanronnen Inn, before bedtime, in anticipation of an early start.
And an early start it is. 6am alarm, quick energy-boosting breakfast and we're out and about by 7:15am. We know we have to be early if we want to park in the car park at the foot of the Miners Path. Except we're still too late. Even at 7:30am the car park is choc-a-bloc. We can either park a kilometre or two down the road, or carry on into Llanberis and revisit our old friend, the Llanberis Path. We choose the latter.
Another old friend has revisited us. Yes, the torrential rain that blighted our last trek up this very same path. Even the attendant at the thankfully empty Llanberis car park warns us to waterproof up before we've even left the car.
And so we begin our ascent. The first part of the path is achingly familiar and that first incline from the town up to the start of the trail proper is still lung-bustingly steep, causing me to challenge my decision to put myself through this once more. The rain makes sporadic appearances, but the conditions have improved a tad since we started. The clouds are hanging low though, never seeming to be more than touching distance away from our head. There is even a little sunshine behind us over Llanberis, but ahead there is nothing but grey.
The path meanders across the foothills, and for the first part there is nothing any more challenging than that first evil climb. This is known as the "tourist path" but considering how quiet this was compared to the car park for Miners & PYG trails I guess most of the tourists decided to stay at home. Or get the train. It's true that Llanberis path has less in the way of spectacular lakes and views than some of the other trails, but with visibility so limited, the views were less important at this point than actually making it up the mountain in one piece.
We reach the Halfway House in relatively good time compared to our previous attempt. And at least it's open this time so we can have a respite from the rain and a quick toilet break. This toilet break is not quick at all when you have to remove soggy layers and wrestle with a backpack. This is where serious decisions were taken last time to abandon our hike. This time, there is no debate. We're going to traverse where we've never traversed before.
And there's no doubt that this is where it starts getting tough. The pain at the top of my leg which hampered my first attempt has returned with a vengeance. And it's brought a friend, so I now have matching twinges in my left and right legs. I go through a succession of stretches and lunges to try and loosen up. I have a feeling it's only going to get more painful from here on in but I grit my teeth and get on with it. I'd like to say that I suffered in silence, but that would be a complete and utter lie. I whinged constantly.
And then the gale force winds started, which don't help matters when you're completely exposed to the elements. We cross under the train track for the second time, and start what may well be the toughest part of the ascent; a steep climb for about 30 minutes. The views are still non-existent as we disappear further and further into cloud, which at least means that I can concentrate on my feet and not get distracted by my surroundings. I start muttering the mantra of "you're not going to beat me; you're not going to beat me; you're not going to beat me." However, occasionally I get a bit confused and start wailing "I can't do this; I can't do this; I can't do this."
There are tears. Tears of pain, frustration and anger. I don't quite know who or what I'm angry at, but I know there are a number of expletives undeservedly aimed at the mountain itself, including a few words I would never utter in polite company.
I'd like to say it gets easier, but it really doesn't. The wind is still doing it's best to knock me over, and Mr Fletche's rucksack cover is billowing like a parachute, threatening to take us both down the mountain prematurely whilst I try and help sort it out. My glasses have long been stowed away in a pocket, as I can't see anything anyway. I have to sit down as often as possible to stretch out my legs, but standing up only gets harder and harder. Eventually we come to the junction where the trails converge, which suddenly means I have an influx of other hikers to deal with, many of whom seem ridiculously spry and make me wonder whether there is some sort of handy escalator on the other paths that no-one told me about.
We're only about half a kilometre of the summit when I have another fit of tears. I'm not a happy bunny but can you imagine getting so close and giving up now? There's no way I'm not touching that summit marker. And suddenly the path becomes wide smooth steps, and we're queuing politely for the opportunity to have a photo taken at the summit with no visible background. Yes, we're queuing. After five hours of climbing, now it's like we're queuing for a bus.
There's a slight fracas when some walkers decide that queuing is for losers, and make a break for the top but normal service is soon resumed. The only proof we have that we reached the summit is a couple of dodgy phone camera photos taken by the people behind us in the queue. No time for artistic arrangements, or for wiping my mascara-strewn face, or rearranging my frankly ridiculously looking hair. Mr Fletche refuses to even acknowledge that it looks like him, so I do a bit of manipulation before its allowed anywhere near social media.


The train has just pulled in, so the cafe is all of a sudden full of people who have had a tiring 40 minute train journey pushing into the drinks queue. One woman is worried that she won't be served before their return journey, so thinks she has the right to request that she goes to the front of the queue. I have just walked for five hours, have two legs which no longer function properly and have had at least two emotional outbursts within the last fifteen minutes…my need for a sausage roll and a cappuccino is greater than hers. I don't remember feeling that entitled when we got the train up six years ago? All I remember is feeling grateful that I hadn't walked up and that I'd be back safe and sound in Llanberis within an hour.
One cappuccino and a sausage roll later and we're ready to commence the descent. I'm not sure how my legs are going to cope but at least I no longer have to lift them upwards. There's still a rush hour going on between the summit and Bwlch Glas Standing stone, it's windy and cold, and I have a final mini meltdown which requires copious hugs and hair-stroking from Mr Fletche. Whilst I'm having an emotional crisis, the clouds suddenly part, and in front of us – at last – is the most beautiful view of two lakes and the sea in the distance. This only brings a fresh set of tears, but I recover enough for Mr Fletche to finally get his camera out and capture the view.
We make the first part of our descent, if not in bright sunshine, then at least with clearer skies. It's good to be out of the incessant thick cloud cover. Coming down is still tricky; suddenly it's as much about mental focus as physical as foot placement becomes more important and loose rocks are treacherous booby traps. Every jolt sends pain through my legs and hips, one toe starts to pinch and I can suddenly feel every sharp pointy stone under my left foot.
It's as much of a relief to sit and rest a while on the way down as it is on the way up, and it feels like a relentless slog once we get beyond the Halfway House (which of course is less than halfway on the descent).
We're tired. Aching. Emotional (well, I am). Getting back to the car in Llanberis, being able to shed some layers and finally take off my backpack is an amazing relief. And of course now, it's all about the after-effects. Climbing the flight of stairs to our first-floor apartment takes on the same superhuman efforts required to climb the mountain. Lifting a leg to change my trousers? Can only be done by shuffling said garment underneath my foot whilst still flat on the floor. Turning over in bed? I'm currently considering investing in one of those hoists you get over hospital beds.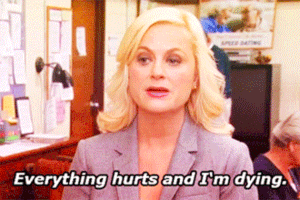 Was it fun? No. Would I do it again? No. Am I immensely proud of myself (and my partner in crime, general motivator and handy hugger Mr Fletche)? You bet I am 🙂
What ridiculous experiences have you put your body through in the name of crossing an item off a "bucket list"? Let me know in the comments!