…aka Dealing with a Control Freak Chief Travel Organiser.

"Let's go to Benidorm" said Friend A, 12 months before we would be waving our 30s behind and embarking on a whole new journey into a new and frightening decade. "I'm in!" said Friend B.  Although Friend B is technically not leaving her 30s til the following year and has an extra 6 months to adjust to the idea. She is kindly letting me and the Friend A test the waters first.
We've been friends since nursery school, and shared most of our primary and secondary school years together. Somewhere along the way we lost touch, but as good friends do it was inevitable that we would gravitate back together. We have so many shared childhood experiences, of roller-skates and bikes and LoLo balls, of secret clubs and label-makers, of dance competitions and living-room shows. And now it's time to make new memories, growing old(er) disgracefully.
"I'm not going to Benidorm" I say. "But I've found us an apartment in Alicante".
"Where's Alicante?"
"Next to Benidorm"
"Cool. Book it"
And so I was designated Chief Organiser of all things Alicante-related. To be honest, Friends A and B didn't exactly try and wrestle the position off me. So here is my first Handy Tip in organising a girls trip to Alicante:
Handy Tip 1: Choose your Chief Travel Organiser very carefully. Your holiday lies in their hands.
Do you want to end up at "Banging-Club-Choons" Hostel if you really want a relaxing break with the soundtrack of champagne corks gently popping? Or booking a swanky 5-star hotel only to find you've arrived in the middle of "Naked Twister" night – and they're after newly-arrived flesh to put left hand on red? Your Chief Travel Organiser needs to be thorough enough to research the destination and make sure it meets everyone's needs. Of course, if everyone's needs are quite simply "sunshine" and "alcohol", and there are no additional demands, it makes Chief Travel Organiser's job a lot easier. Everyone just needs to know when and where. Which leads me on to:
Handy Tip 2: Make sure everyone knows when and where
WhatsApp. Facebook Messenger. Texts. Set up some kind of group so everyone is in contact with everyone else and everyone is clear on the details. Or, you know, meet up face to face. If Chief Travel Organiser has gone rogue and booked carry-on only ("Look, it's for two nights, how much stuff do we REALLY need?…), you don't want Friend A turning up with a 23kg suitcase. And you don't want Friend B turning up at East Midlands airport at 11:30pm when you're meant to be meeting at Birmingham airport at 11:30am.
Information and communication is key. Chief Travel Organiser will probably have some kind of itinerary, list or welcome pack, in the manner of a Brown Owl organising a trip for a group of unruly Brownies. Except you don't need to pack primarily yellow and brown clothes. And whilst we're talking about packing…
Handy Tip 3: Discuss who's taking what
Okay, so some things just aren't shareable (not without risk of disease, contamination or just plain ickiness) but it's pointless taking three lots of shower gel, hairspray, straighteners, toothpaste etc. Of course, it's highly likely you'll have this conversation and still forget who's taking what, and thus still end up with three lots of shower gel, hairspray etc.
And Chief Travel Organiser will no doubt remind everyone on countless occasions about the 100ml liquid rule, and about the dimensions of allowed baggage. If you do get it wrong, blame the Chief Travel Organiser for failing to tell you enough. She'll love that. Don't forget the Chief Travel Organiser is Chief Travel Organiser because she is a control freak. Which makes her a great Chief Travel Organiser, but not great at dealing with people that go "off-plan"…

Handy Tip 4: Have a plan. Albeit a loose, flexible one
Mr Fletche and I took Ma and Pa Lee off to Salzburg a few years ago. I was unsurprisingly Chief Travel Organiser then too. I presented Ma and Pa Lee with a printed copy of their itinerary. I would have had it laminated if I'd had the chance, but a plastic document wallet had to suffice. Of course, when we'd seen all of Salzburg on the first night, we had to come up with a new plan. A Chief Travel Organiser learns from their mistakes.
So whilst your Chief Travel Organiser may have done a little bit of research on the best local beaches (Playa de la Albufereta, La Almadraba, Playa de San Juan), where to get the best views (Castillo de Santa Bárbara), the best mojitos (El Coscorron), the best tapas (Taberna San Pascual), which bus (no 22) or tram (no 1) to get into town, and found a local supermarket which sells vital supplies (i.e wine, gin – Mercadona, open til 9:30pm)…Your Chief Travel Organiser will always be flexible. Because the most important thing is…
Handy Tip 5: Have fun!
Yes, your Chief Travel Organiser may be a mini dictator in training, she may be slightly too in love with spreadsheets and Evernote, and she may get frustrated when yet another person fails to remove their coat BEFORE they get to the security check (IT'S NOT HARD PEOPLE…DO IT WHILE YOU'RE IN THE QUEUE!) but trust her. Because when you're all chilling in your apartment, cold drink in hand, after a taxi transfer that she has thoroughly researched, after a 10 minutes walk to the local Mercadona that she has thoughtfully mapped out, listening to the playlist of cheesy 80s hits she has carefully complied, she will relax. It is up to Friend A and Friend B now. Because it's another 36 hours before she has to stress about repeating all the travel steps in reverse. 36, glorious, sangria-and-tapas filled, hours.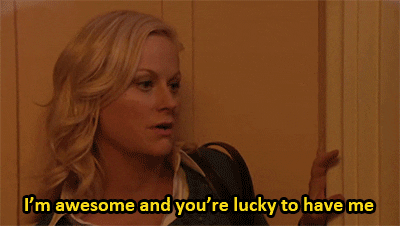 By the time this blog goes live, we'll be winging our way to Alicante. And as Chief Travel Organiser, I have no doubts that everything has gone smoothly, everyone has turned up at the right place at the right time, all packing instructions have been adhered to and we've already cracked open the first bottle of Prosecco…
Stay tuned to A Brummie Home and Abroad on Instagram, Twitter and Facebook for updates!
All gifs from Giphy.com. Only Leslie Knope can out control-freak the Chief Travel Organiser…