Not going away this summer? Jealous that your Instagram and Facebook Feeds are full of pictures of sun-drenched beaches and umbrella-filled cocktails? Here are 15 ways to recreate that holiday experience in your own living room.
**A BRUMMIE HOME AND ABROAD NOTE, APRIL 2020: This blog post was originally written back in July 2017. But with summer holidays currently on hold due to COVID-19 these fun tips appear more relevant than ever!**
1 Replace your normal body lotion/moisturiser with suntan cream or after sun for that sweet coconut holiday scent.
2. Turn the heating up to tropical and sit watching telly in your swimwear.
3. Steal Borrow some sand from a kids playground or building site, mix with water and rub it all over the back of your calves for that "just-got-out-the-sea" look. Spend all day complaining about how you have sand everywhere. Sprinkle some in your bedclothes to keep the feeling alive all day – and all night – long.
4. Learn a random foreign word every day and try to slot it into everyday conversation.
5. Drink every drink out of a fishbowl. Or a coconut. At the very least make sure that every beverage is adorned with a cocktail umbrella.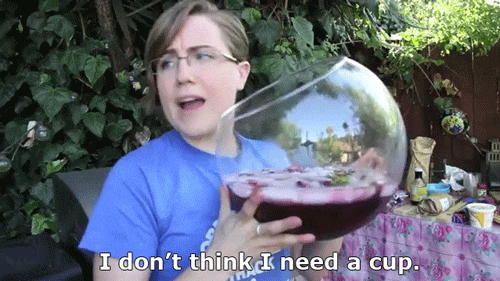 6. Blow up an inflatable and try and fit it in your bath. Extra points if you fit one in a shower. If it's a unicorn or a flamingo, make sure you put it on Instagram with a "witty" caption.
7. Download your favourite holiday song and listen to it on repeat. Loudly. This is mine. You're welcome.
8. Try and fit time in your day for aqua aerobics, tug of war, darts and some party dances.
9. Get up at 5am to put a beach towel on your patio. Tut loudly at your neighbours if they do the same.
10. Take a "hotdogs legs" picture and post it on all your social media feeds. Even if you're in your Christmas pyjamas in front of the telly.
11. Crack open a beer at 10am because "the sun's over the yardarm". This one's probably best avoided if you're a bus driver. Or if you're in charge of small people.
12. Annoy all your friends by phoning/texting/whatsapping them to ask what the weather's like "back home".
13. When you're in restaurants, randomly point at things on the menu rather than trying to pronounce them, whilst calling your waiter "Señor". Try this in McDonalds.
14. Wear ridiculous clothes that you normally wouldn't be seen dead in. Go on, pull out those garishly-coloured harem trousers and team them with a "Son of a Beach" slogan t-shirt. Or float around in a kaftan and a big floppy hat.
15. Make sure all your meals are at least three courses. For true hotel buffet authenticity, leave all your food out on the counter for at least three hours before consuming. Getting a couple of people to manhandle every item first adds to the experience.
What other tips do you have to recreate that holiday experience in your own living room? Let me know in the comments or on social media!